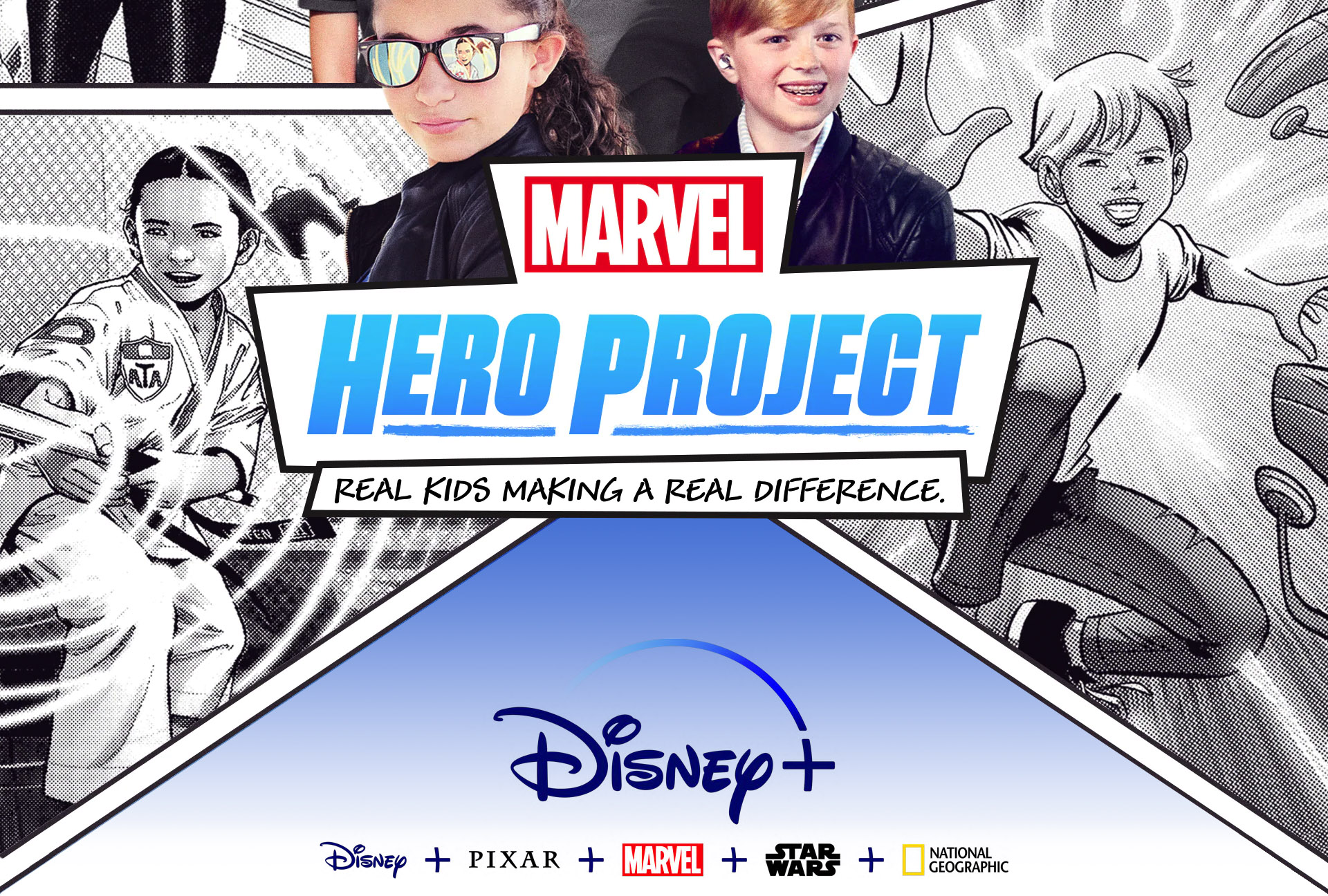 In life, it doesn't take wearing a suit of iron, carrying a mythical hammer or swinging from spider webs to be a real hero. Sometimes the person who can make a positive difference in the world is the person who simply sees a problem and has the passion to find a creative solution. And in Marvel's Hero Project, the new Disney+ series, those people are kids. The first non-scripted reality series from Marvel Entertainment takes an up close and personal look at the lives of twenty amazing kids from across the country, each of whom is doing remarkable things to help his or her community. Each week, Marvel surprises these young heroes, who have dedicated themselves to performing selfless acts of bravery, kindness and betterment, by welcoming them into Marvel's Hero Project..
Design Philosophy.
Our goal was to take everything we love about classic Marvel and combine it with modern comic illustration styles, graphic design, and dynamic motion to deliver a package that was bold, innovative, and had a fresh new twist. It encompassed the already established Marvel aesthetic and ethos, capturing a powerful sense of heroism and showcased the energy and authenticity of the kids, ultimately resulting in something that felt familiar, yet progressive, and succeeded in driving these stories into the future.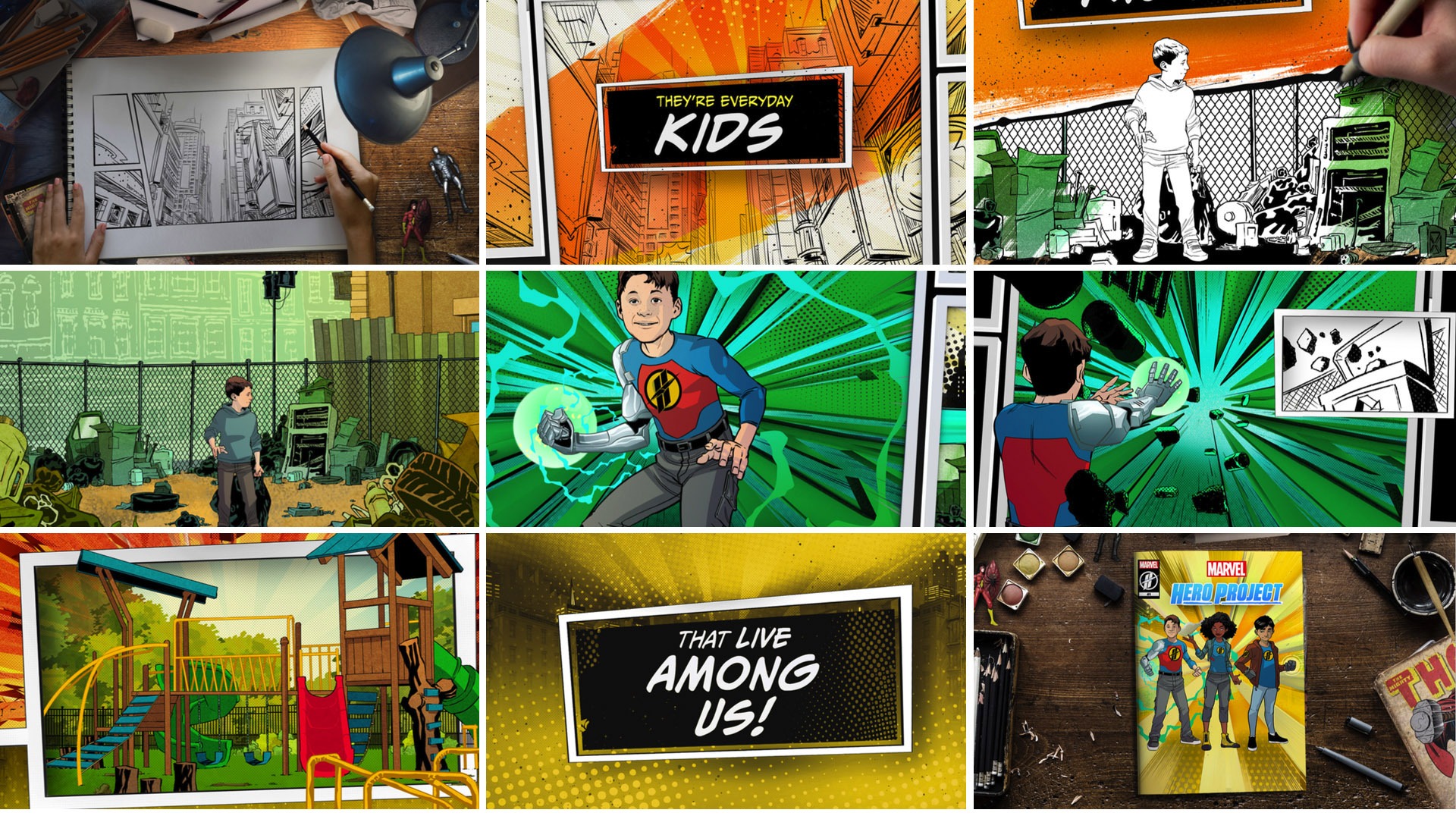 A Cohesive Vision.
Following our design philosophy, our aim was to craft impactful and energetic transitions that felt different, modern, and yet recognizable to superhero movie and comic book fans alike. These transitions were be crucial in how we moved between our beautiful, illustrated environments and the real world footage. Transitions always appear more natural when motivated by action, and that was vital in our design. Our robust toolkit allowed the editors to seamlessly transition from the episodic footage into our comic book world and back again with the minimum of effort.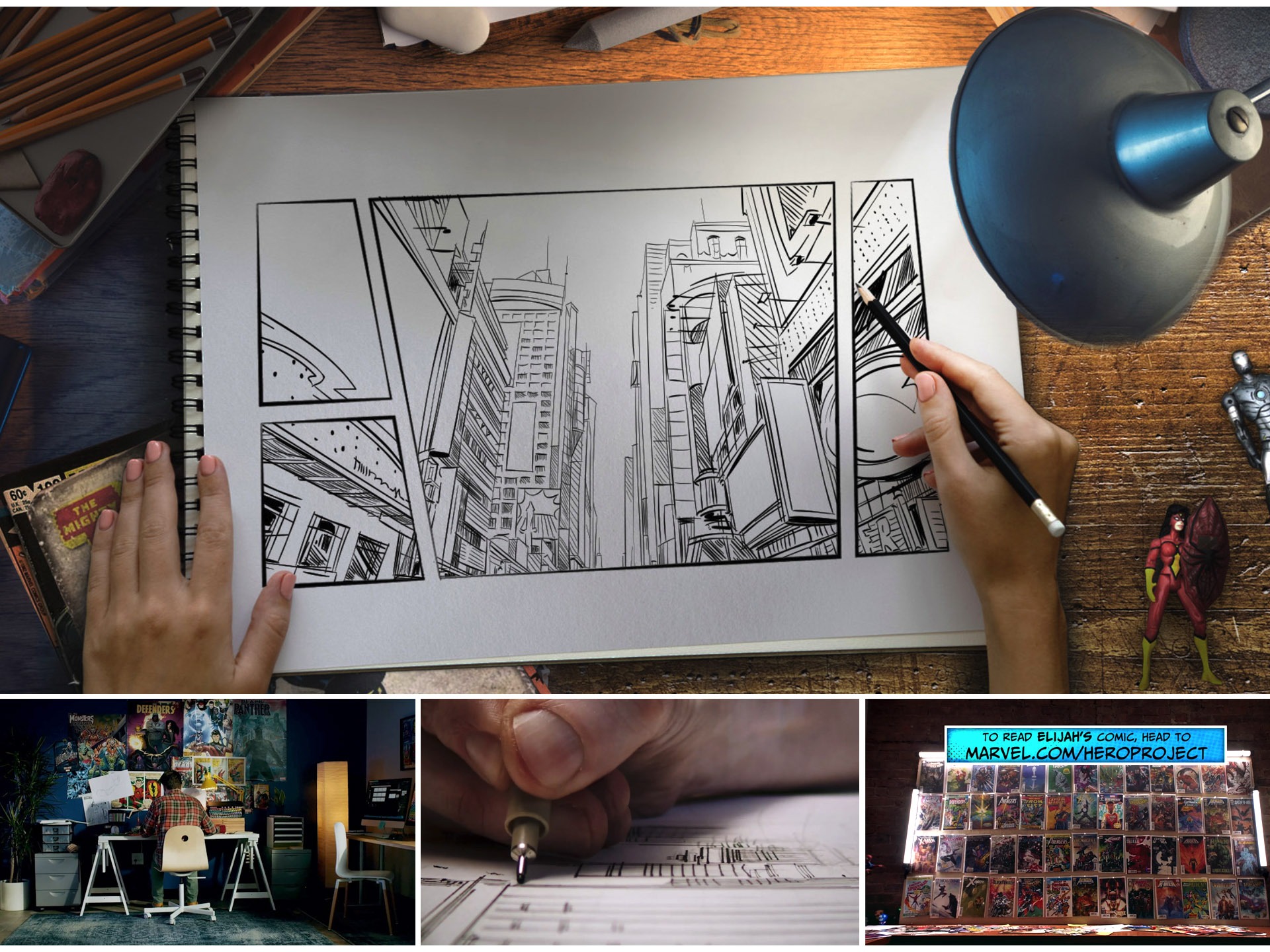 Live Action.
As part of this extensive package, K&C was thrilled to produce and direct the main title. We built the artist's studio in our LA facility and had the great honor of filming one of Marvel's very own artists bringing our pages to life.  
Thrilled & Honored.
If it wasn't already obvious, we were thrilled to work on this. It represents everything we could hope for in a project, from the Marvel brand, to the unique comic book style and aesthetic, to the heartfelt stories of these incredible young heroes. The opportunity to play in this sandbox and unite all these elements to create something that resonated with the audience is one we will never forget.